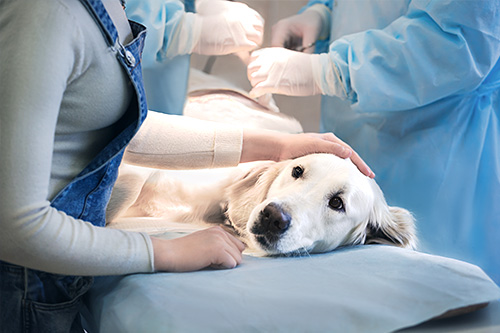 At PawSteps Veterinary Center, we perform spay and neuter surgeries, tumor removal, skin and tumor biopsies, exploratory surgeries, ear flushing, and minor eyelid/ophthalmic corrections. Regardless of the surgery your pet needs, its wellbeing is our top priority. During surgical procedures, your pet will be closely monitored by members of our well-trained veterinary healthcare team. Modern monitoring equipment is used to monitor your pet's vital signs, including blood oxygen levels, blood pressure, heart rate, respiration rate, and body temperature. Monitoring allows our highly trained healthcare team to fine-tune the anesthesia, keeping your pet's functions steady and stable. Your pet will be kept warm throughout the surgical procedure and during the recovery period with the help of a warm air circulator.
Pain management is crucial for optimal recovery. We will administer pain medication throughout the procedure, so your pet is less likely to feel pain when the surgery is complete. Following surgery, your pet will be monitored until he has fully recovered from the anesthesia, and then placed into the ward where he will continue to be monitored by the team at PawSteps Veterinary Center. We may also send additional pain medication home with you to help with your pet's recovery. By minimizing pain, we maximize health.
We also offer non-invasive liquid nitrogen cryosurgery. The devices we use bring innovative cryosurgical technology based upon the direct application of nitrous oxide on the lesion. By using this non-invasive type surgery, we are better able to serve elderly dogs & cats because it does not require anesthesia.